23andMe – A New Genealogy Testing Service
A new genealogy testing service is online and it's called 23andMe (get it? there are 23 pairs of chromosomes…). Anyway, 23andMe is unique in that they offer something they call "Personal Genome Service." When you pay for your test, you also get a year's subscription to the service, which includes:
Access to hundreds of comprehensive reports that interpret your genetic data
Continual updates to those reports, based on the latest research discoveries
Ability to share and compare results with friends and family
Tools to discover new relatives and learn about your ancestry
In many ways, it's easier to get started because there is just one test to order.  There are two options though. The first is to order the test for $99 but then get billed at $9/mo for the Personal Genome Service (required). Or you can order the full year up front (test and service included) for $207.
The collection method is slightly different than other services like Family Tree DNA or Ancestry – with 23andMe you spit into the collection tube rather than scraping your cheek cells!
Once your results are processed, you can log in and check out tons of comprehensive reports. In addition to learning about your deep ancestry and comparing results with your immediate family, there are other types of reports. Under My Health you can see disease risks and traits (like eye color), among others.
You can sign up for a free demo account to check out the types of reports that are available with a paid account. You get "dummy" data for the Mendel family but it's enough to give you an idea.
Here is a sample image of what the ancestry area of your account looks like: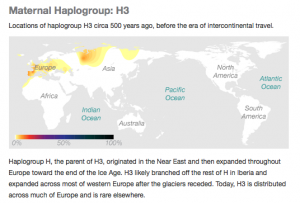 This shows the type of health results you can get: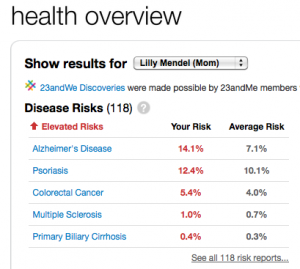 So you can see for one price, you get a lot more information about yourself and current family as well as your deep ancestry.
Take a Journey Through Your DNA with 23andMe.com